Julie and Mark Brayton are the brother-sister duo who started and run the eponymous Denver-based interior design studio, Brayton Interiors.
Although having grown up under the same roof, Julie and Mark couldn't have gone more opposite ways when developing their careers…at first. So, how did they come together to form a company with proven-processes and design-savvy that will stand the test of time? The following interview with the dynamic family team explores how the paths of two very different people converged to build a luxury interior design firm from scratch.
Can you each provide insight into your background? Julie, why did you choose interior design?
Julie: For as long as I can remember I've been spatially aware, but it took me until high school when someone pointed this out to me and gave it a name for me to realize that I take in a space differently than others. I recognize and appreciate ambiance and feeling good in a room, restaurant, or coffee shop more so than just about anyone I have met perhaps to a fault, and I am really dialed in at identifying the specific traits about an environment that make it feel optimally appealing.
Fast forward several years and I found myself graduating from The University of Iowa with degrees in Studio Art & Art History and Photojournalism. Because of the volatile circumstances set off by the 2008 recession, right when I graduated college, I decided to pursue a job with IBM, which was located in Dallas. I was most interested in experiencing life in a big city with a specific cultural feeling, and so Dallas had an opening and was the move at that time. Needless to say, I was miserable in my gig as an inside saleswoman.
I eventually decided to channel my dissatisfaction in a job that didn't suit me to chase after something much more suited to my ultra-right-brain way of thinking – interior design at FIDM, Fashion Institute of Design & Merchandising, in LA. Interior design really allowed me to hone in on my love of art history – everything came full circle, finally. While in LA, I was fortunate to work under two Architectural Digest Top 100 (AD100) Designers that I truly admired, and learned essential techniques and the science behind
design. It was in LA that I developed the confidence to become a really effective designer, not just pulling together the right style and combination of furniture that evokes a specific client's aesthetic preferences, but also how to execute the process in a highly professional manner.
Mark: I studied Mechanical Engineering at Iowa State University and am the total opposite of Julie – ultra-left-brained. My first job was working for Procter & Gamble as a Process Engineer and my focus was on making things better, faster, more efficient, and of course, cheaper. After that job, I went to Stryker for 10 years, first as a Project Manager and then as a Sales Representative. My experiences at both of these Fortune 500 companies has been invaluable to what I do for Brayton: ensuring the customer experience is second-to-none through precise project management, dialed-in and repeatable processes,
and exceptional customer service.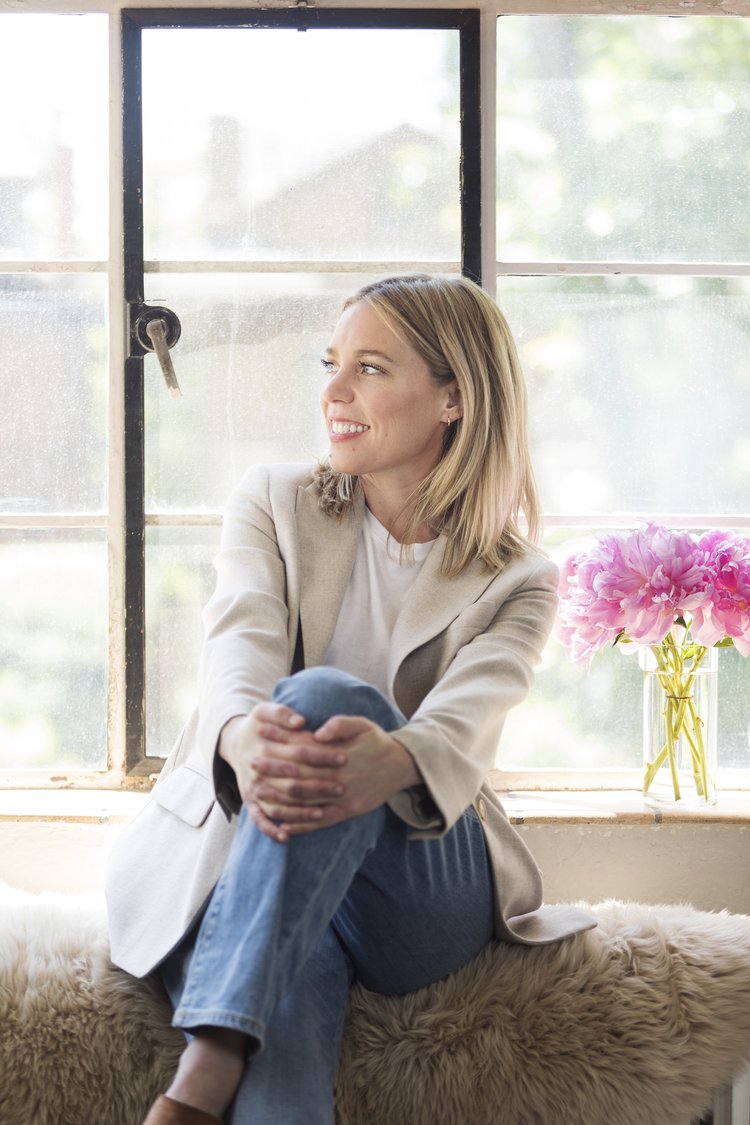 What are your roles within the Brayton Brand?
Julie: I act as the head designer for all of our projects – as an unapologetic full right-brain – and Mark handles everything process-oriented. I do not have the sensibility to develop processes or dig into the details that Mark really capitalizes on. He's really great at that part of managing a business.
Mark: I handle everything behind the scenes in regards to project management whether that be project schedule and flow, billing, and so on. You know, the glamorous stuff…
How did you both land in Denver? What's exciting about putting your design stamp on Denver?
Mark: I got an opportunity to move to Denver with Stryker and truly, it was a no-brainer. I always wanted to live in a place that is basically a vacation destination.
Julie: I'd add to that that ski culture also drew us here. We grew up skiing here as kids and as Mark mentioned, living in a vacation destination was always the goal. But then again, almost anywhere is a vacation destination coming out of Iowa, no shade. Plus, Denver strikes a great balance between feeling like home and being comfortable, but also having loads of entertainment options. It has transformed completely from how I remember it as a kid.
Mark: With my move for Stryker, I was living here first and by the time Julie moved here, we already had a plan for the business. We started to put together the framework in January 2017 and when Julie moved here in August, we had to scratch and claw for every project. We started completely from scratch, knocking on doors trying to find projects and make the right connections. Our first sale was a $500 consultation and we were both so excited. We framed the check and popped champagne.
Were there any hesitations going into business as siblings? How is it working with your brother/sister?
Julie: There were no hesitations on my part. Being in the same family allows us to be much more open and just be ourselves. Not going to lie, we argued a lot early on. We have always approached things from a different standpoint which is often an advantage but was a challenge at first as we had to learn to compromise. I really appreciate and value Mark's perspective, and I think he feels similarly about mine.
Mark: The balance of our strengths is very complementary which I think makes us unique and successful. We each stay in our own lanes and focus on our own strengths – we try not to get into what the other person is doing. Julie handles design and I handle the management/behind the scenes of each project.
Julie has always been steadfast about pristine design, and one of our early arguments was how Julie would want to make every project perfect whether we were getting paid for design services or not. I, of course, wanted the revenue to match up with the time investment, but Julie was laser-focused on the brand above all else, and she knew that the time invested would someday pay off. Long story short: I learned to trust Julie's design instincts because that mentality has undoubtedly paid off and has made us into the company we are today.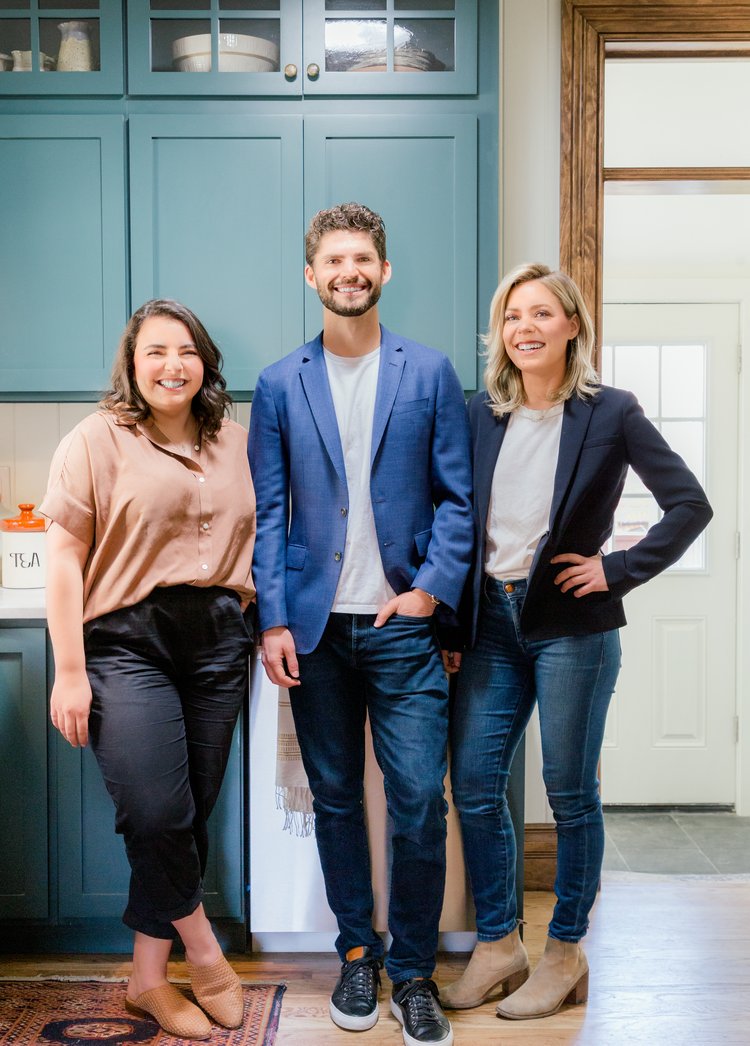 Julie: I understand Mark's approach to running a business, and truly respect it. I think one of the hurdles we had to overcome especially in the beginning was the idea that if you want to be really good at design, you likely don't have the capacity to effectively tap into the left part of your brain, which is what Mark is good at. It's so helpful to have somebody taking care of that piece so I can focus solely on creative. We also have Sarah on our team who is a good combination of me and Mark – she has an organizational side of her and a design side of her. We often have separate meetings with her so we can each bounce ideas off of her. She's honestly been invaluable to us for her ability to balance and bring together all the aspects of our business. Her design eye is great, and her acumen for business is very prevalent, where I really lack that. We are lucky to have her because her street smarts and people smarts are just bar none.
What are your main career highlights thus far?
Julie: We are currently installing an incredible property in central Denver. The house features so many qualities I love about historic-meets-modern Italian architecture. We lucked out with the clients, as they are such a dynamic duo, who are lovely people in general, but made the design process easy due to the awareness they have as it relates to their specific design priorities. One loved to select the fixed finishes for the remodel, and the other loved deciding upon great furniture.
Aside from this dream project, I think a highlight for me has been building the confidence around trusting my design instincts and having them pay off. One of our first projects was re-doing our neighbor's small kitchen and dining room. I wasn't feeling confident about how the layout was developing, and so I came up with something I thought would really nail it. In the end, they loved it, and I love it. This was monumental for me because it took pitching an idea that wasn't in the initial scope, and recognizing within myself that this new conception was the real ticket to their happiness, and fulfilled my instincts as a designer.
Mark: I second what Julie said in not having a particular project that stands out. Instead, I'd say a career highlight is that we seem to get incrementally better – with our processes, efficiencies, design precision, execution, vendor relationships, customer expectations, etc – with each project. At one point someone told us to enjoy the little milestones along the way. You get so into the zone and forget to enjoy the process along the way, so we're collectively trying to do a better job at celebrating the small wins.
Where do you see Brayton Interiors going? What do you want the future to be?
Julie: Quality and thoughtful design, as well as meeting my clients' preferences, are my top priorities and will always be. Mark and I both have zero desire to run a big conglomerate, as I think it takes away from the necessary understanding of a specific client lifestyle and aesthetic. A huge dynamic of residential interior design is reflecting specific tastes, and that takes effort and understanding through personal relationships. A five-person team would be ideal as our goals require us to have a few more people, but definitely don't want to get huge.
Julie, who or what are your inspirations if you had to choose?
Julie: Aside from my interior design favorites in Axel Vervoordt, Steven Gambrel, and Paul Fortune, I'm inspired by the abstract painting movement that became really prolific in the 50s and 60s. It's a very expressive movement that's driven by color and balance. I paint as a hobby, and my paintings are very much derived from that ideology. It gets me out of my body and doing something that is physical while exercising my balance and proportion skills.
I love the career trajectory that befalls an interior designer, as it incorporates everything I really love – history, creating s people, places, more history….what a rich career choice!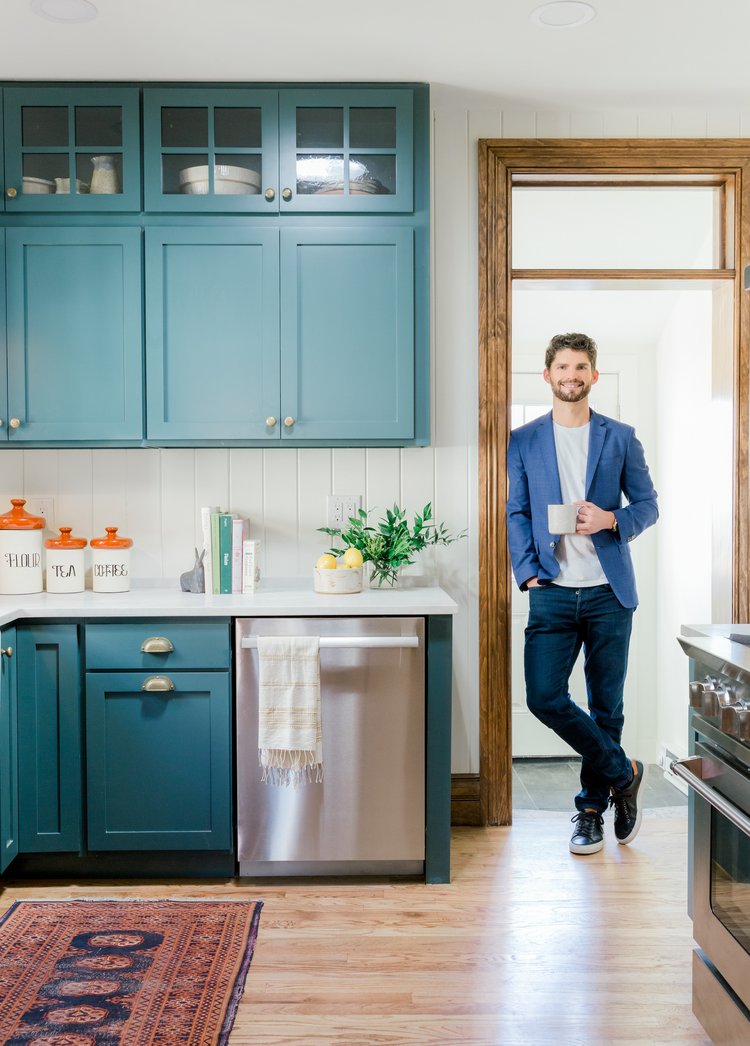 Mark, how did you familiarize yourself with the world of interior design in order to work in it?
Mark: I have not nor will I ever try to be a designer, though I sure know a lot more design lingo than I used to (for example, my eyes used to glaze over whenever Julie would say words like " art deco," but now I actually know what she's talking about!). Having said that, I stay in my lane and remain focused on the business aspects of our company, and the principles of a well-run business are the same regardless of the industry of that business.
I knew that repeatable processes had to be implemented, but I didn't know what those processes were or who would execute what. For that, I leaned heavily on Julie and her past experience with very well-run and world-renowned interior design companies.
It may have taken me 50 times of asking her similar questions over and over and over, but she taught me how the best companies in the industry were structured, and she still sends me Architectural Digest articles that discuss the business aspects of interior design.
At first, we were adapting daily. We still adapt based on the project and who we're working for, but we have a really great framework now that accounts for those adaptations and still encourages us to continually improve.
What does good design mean to you and how does your personal style influence your thoughts on good design?
Julie: For me, it has to do with pulling the original architecture from the location.Proportions, finishes, and the style all have to fit within this umbrella and need to be anchored to the space with some important architectural details. We are rooted in tradition, but we are not a slave to it. It's fun and creative but really involves a lot of knowledge, because I am trying to marry architecture, locale, and personal preferences in a way that does not feel contrived.
Balance, proportion, and scale are the top three elements of good design. Understanding basic principles and how to mix styles so you aren't relegating yourself to mid-century modern or traditional, for example. Understanding what goes together and how. All of this falls under good design.
Mark: I think good design is more of a science than what meets the eye. Some think design is simply picking finishes that look good together, but, as Julie mentioned, proportion and scale must also be precisely dialed in through a CAD program really as the first step in the design process before materials and finishes are even considered.
Contact Brayton Interiors today to get the best of both worlds – timeless, luxury design and high-quality customer service.