At Brayton Interiors, we feel that every design should tell a story. The story behind the design is what brings everything full circle–the client's interests and history, the feelings they want their home to evoke, the activities that take place within their home, and so on.
Our in-progress Italian zen project attempts to do exactly that: execute timeless and elegant design by using pieces that tell a story about our clients. In this case, the clients have a passion for art, are well-traveled, want their home to feel collected, and prioritize outdoor space as highly as indoor space. One of the areas of their home that marries all of these is their conservatory, an addition we pitched to them over two years ago. Within it, you'll find worldly furniture and textiles, work-of-art light fixtures and wall texture that speaks of another time. Our favorite element happens to be the flooring, though; not only because it's the perfect selection for the space, but also because it has its own unique story that further enhances the story of the family inhabiting the home.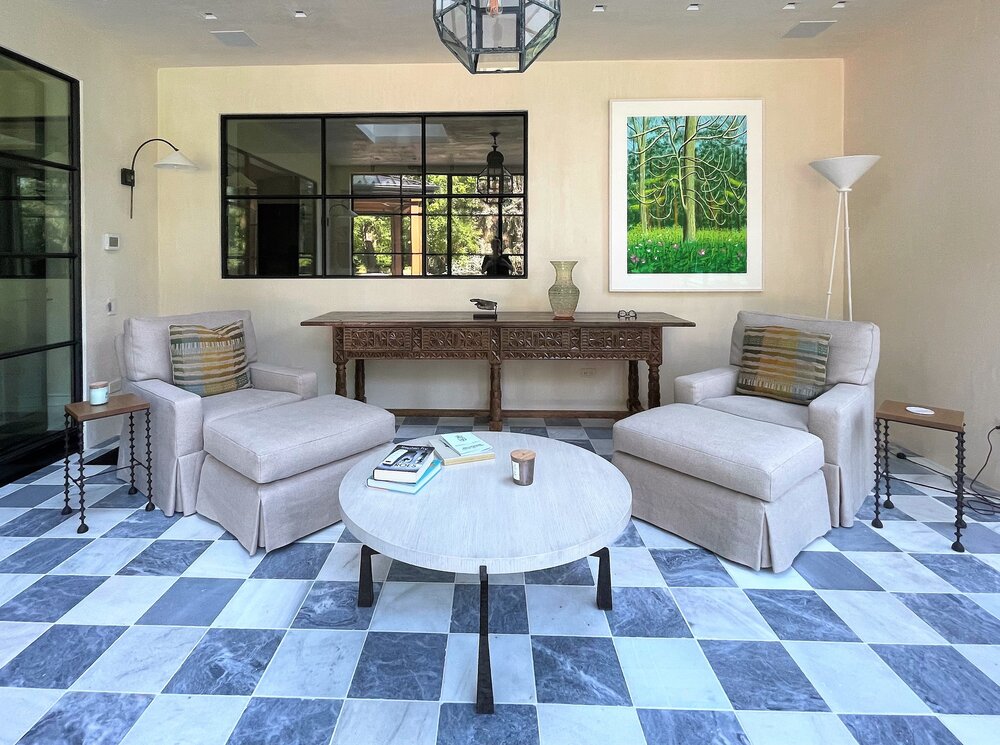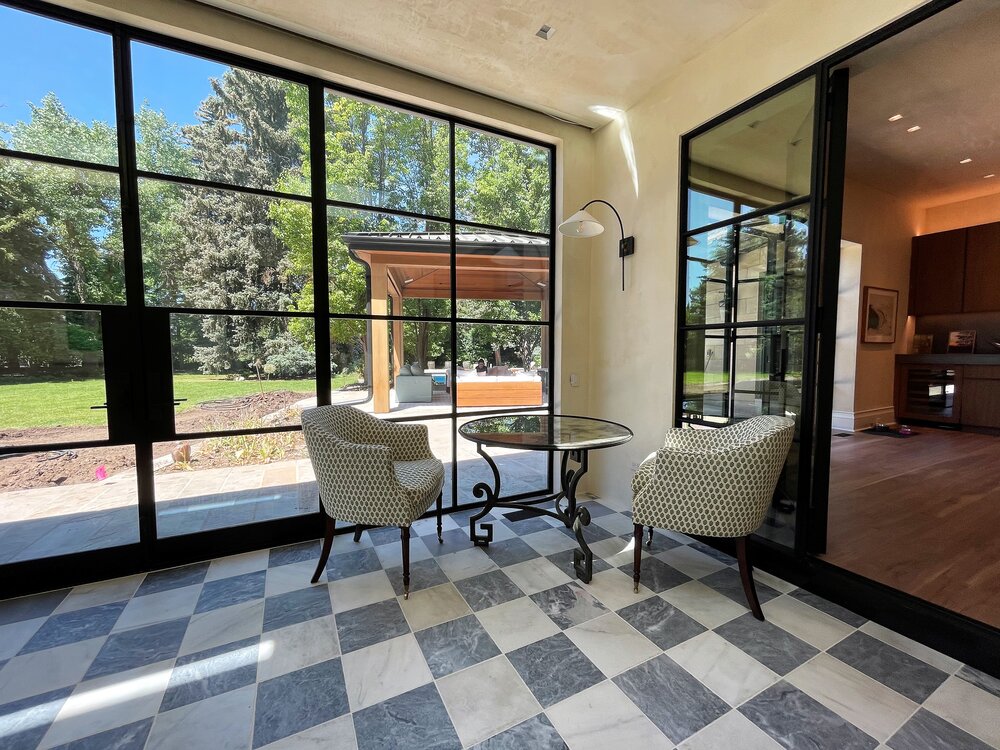 Hailing from Iglesia de San Jorge
Taking into account the primary design goals of the home's conservatory–bridging the gap between the indoors and outdoors and a space that felt collected–we had to look outside of the materials available here in Denver and even within the US. When it came to the flooring, we knew early on that finding a reclaimed Spanish marble was the best route to take. Sourcing something like this during a pandemic though…not so easy.
To start the search for the perfect tile, designer Julie Brayton turned to her rolodex of vendors and artisans from her years of assisting some of Architectural Digest's top 100 interior designers. Espacios Nazaries, a flooring vendor out of Granada, Spain, happened to be an impeccable partner for this quest. Upon explaining our needs, Espacios Nazaries was able to reclaim a checkered marble tile from a historic 18th-century church in the small port town of Cadiz, Spain, called Iglesia de San Jorge.
Iglesia de San Jorge, jaw-dropping in its original architecture, was a Catholic church in the predominately Catholic country built in the 18th century, an especially trying time for the country as a whole due to a bout of poor leadership and war. The religion is said to have had a presence in Spain since the 1st century and has played a major role in the country's history. Special care and an abundance of caution had to be taken to transfer these marble tiles, slowly but surely, from Spain to Denver so they could be installed with the same integrity and beauty as they were three hundred years prior.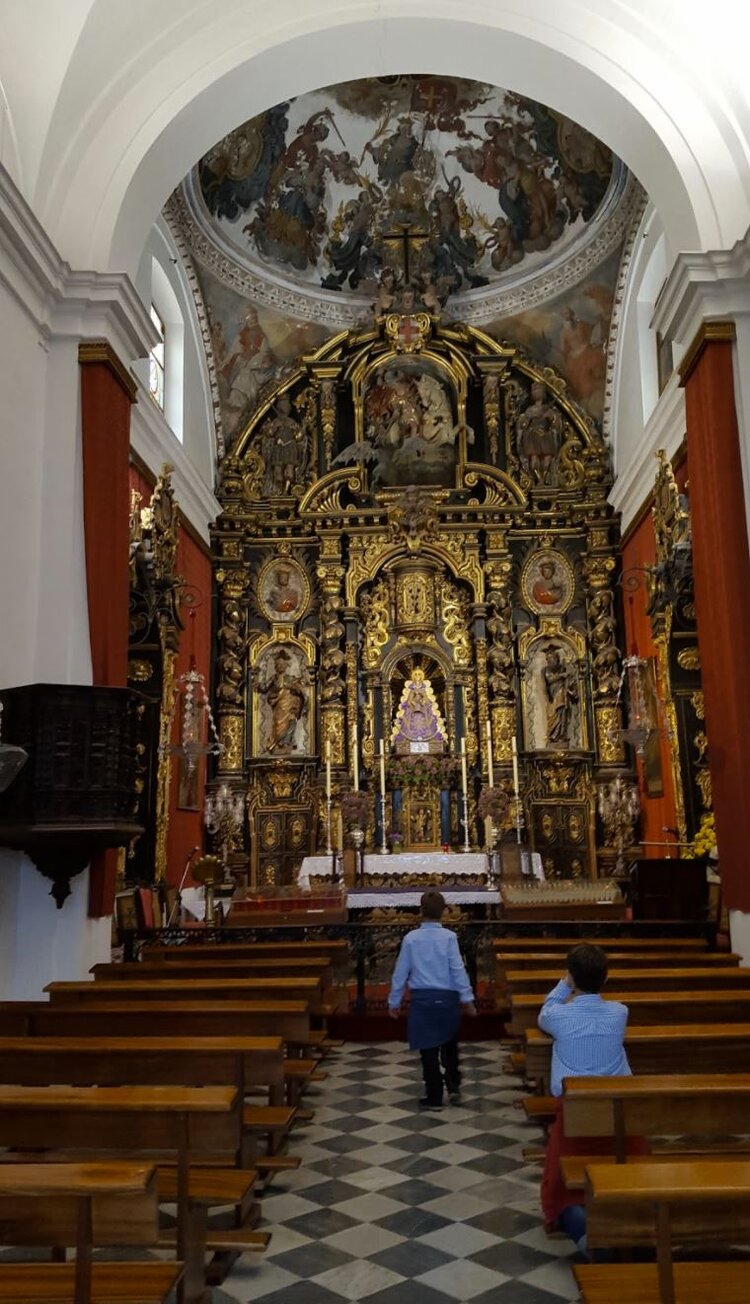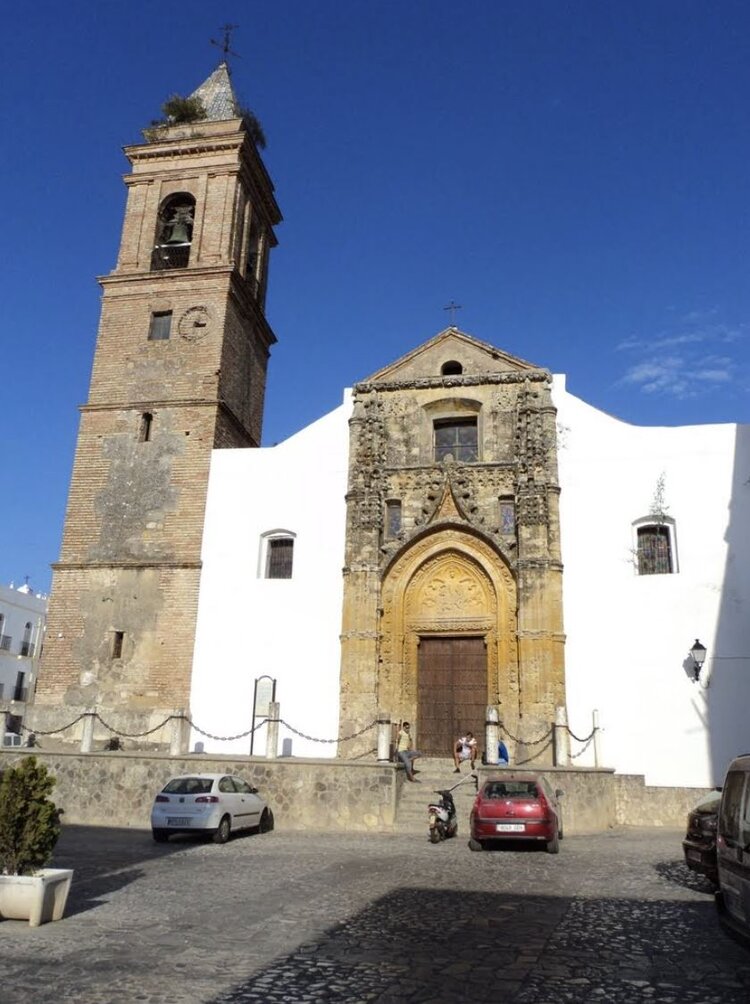 Special Attention Install
Being that these tiles were reclaimed and had made quite the journey to Colorado, special care and attention had to be taken during installation. The thickness of every individual tile was different–as is common with reclaimed materials–therefore, the installer had to be extremely skilled. A thicker consistency of mortar was used overall and on thinner tiles even more was applied to make sure that at the surface there was no variance in the floor's height. For this tile, much of the hard work was done where you can't see it: underneath the floor.
Each tile was also vastly different in appearance…some had purple swirls, some were closer to a solid black or grey, some were white and extra pearlescent, while others had shown more age. Although this was one of the most impactful features of this tile, it added an additional step to installation, which was laying out each tile prior to. We wanted the most unique tiles to be placed in a stand-out spot, and laying them out before installing helped us place them at precisely the right locations. Now, each individual tile shines in its own right to complete the indoor/outdoor conservatory.
We couldn't be more pleased with how the search for the perfect floor to tie the space together resulted. The worldly, reclaimed, solid marble tiles were hands–down one of the most exciting aspects of the project. The tile's story and journey are now a part of a conservatory in a Denver home, and as a designer with a special love for art history, there is nothing better than re-imagining a space and working with a client that welcomes an aged, historical material to live on for many more years.