When working in a condominium, elements of your design are often dictated by the inner workings of the complex – structural walls that can't be removed, utilities that can't be relocated, and so on. This always adds particular challenges to the project, some of which we were not exempt from when turning a Downtown Loft into a Downtown Mountain Loft.
As a luxury interior design firm, we at Brayton Interiors take pride in transforming spaces that reflect who the client is, not necessarily who we are. We believe the best interior design firms bring your vision to life through tailoring a broad spectrum of design styles, and that can only be done by having a wide-and-deep understanding of art and architectural styles that have existed throughout both recent and distant history. Our design team not only specializes in art and architectural history, we also thrive in stepping outside of our comfort zone to develop unique yet timeless designs for our clients.
For the Downtown Mountain Loft project located in the heart of Denver, we were tasked with marrying the clients' love for the mountains with their new city lifestyle. Having had stark white walls and a choppy layout reminiscent of the 90s, one thing this small space begged for was movement, depth, and warmth that spoke to the Rocky Mountains. Turning a sharp, modern living room into a cozy hearth can be challenging, but it was made possible by using our personalized and customized interior design process.
Keeping in mind the challenges of working within an established condo complex, we knew reinventing the layout to achieve this was off the table. Instead, we turned to something more subtle but with just as much impact: the wall paint and texture. Colors can produce a strong reaction to how one perceives a space, which means paint goes a long way to soften a home's modern sharp edges.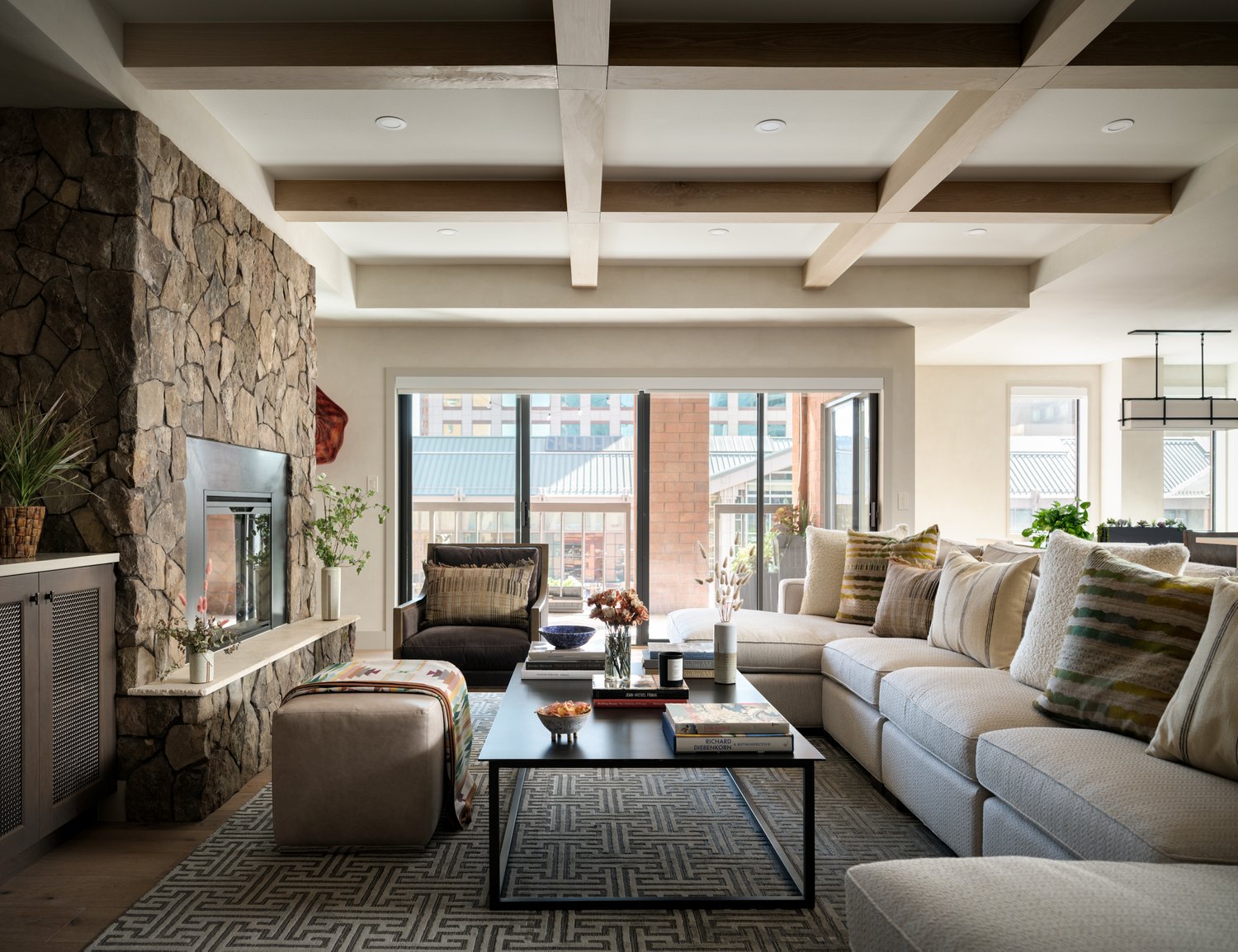 3 Ways to Add Space and Depth to a Downtown Loft
Period-Appropriate Furniture Selections
Furniture design should complement the choices of fixed finishes in the space and should play off the same balance, proportion, and scale principles used for those finishes. The shapes of the furniture pieces should be rooted in the same period as the architectural and interior design choices throughout the space, but this "rule" does not need to be strictly followed; we try to aim for around 50% of the furniture to be period-appropriate and the other 50% of the furnishings to balance out and personalize the space.
1. Smart Use of Vertical Space
Open rooms with tall ceilings need to be filled and layered appropriately, not excessively. Our team always strives to strike the perfect combination of balance, proportion, and scale for all of our spaces, and this open loft called for a coffered ceiling painted the same color as the rest of the ceiling to appropriately balance the space. As a result, the detail now subtly draws the eye towards the ceiling for some visual interest and to make the space appear larger and more luxurious.
2. Layered Lighting
This downtown loft already featured some great natural lighting, and our team wanted to play off that light as opposed to replace it altogether.
Table lamps, floor lamps, wall sconces, flush-mounted lights, and primary light fixtures in a room all serve separate purposes and can give a room different feels for different situations or times of the day. Together, these lighting variations can make a room feel more elegant and sophisticated.
3. Implied Texture by Roman Clay
Just as there has been a recent comeback in colorful, bold walls, textured walls have come into the spotlight again. We have to believe Portola Paints and Glazes out of North Hollywood, CA had something to do with the resurgence.
When designing the Downtown Mountain Loft, we knew using one of their products was our solution to adding a dose of sophistication and earthy tones to the project. Portola was exactly what this project called for. They honor time-old traditions by blending every color by hand to ensure color depth and accuracy, and they embrace ancient techniques reminiscent of the past.
We were after a bright tone that complemented the white oak cabinetry, walls, and floors. After reviewing color and texture options, we settled on Portola's Roman Clay in Saint Sauvant, which mimics a plaster finish, but is smooth to the touch.
Since Roman Clay is applied using a putty knife, you're able to achieve a wide range of finishes, which made it the perfect fit for the look we wanted to achieve – subtle movement and old-world charm. In addition to applying Roman Clay to the walls, we painted the trim a beige just a few shades darker and added wood ceiling beams to up the ante on the warmth and reinforce the space's new depth.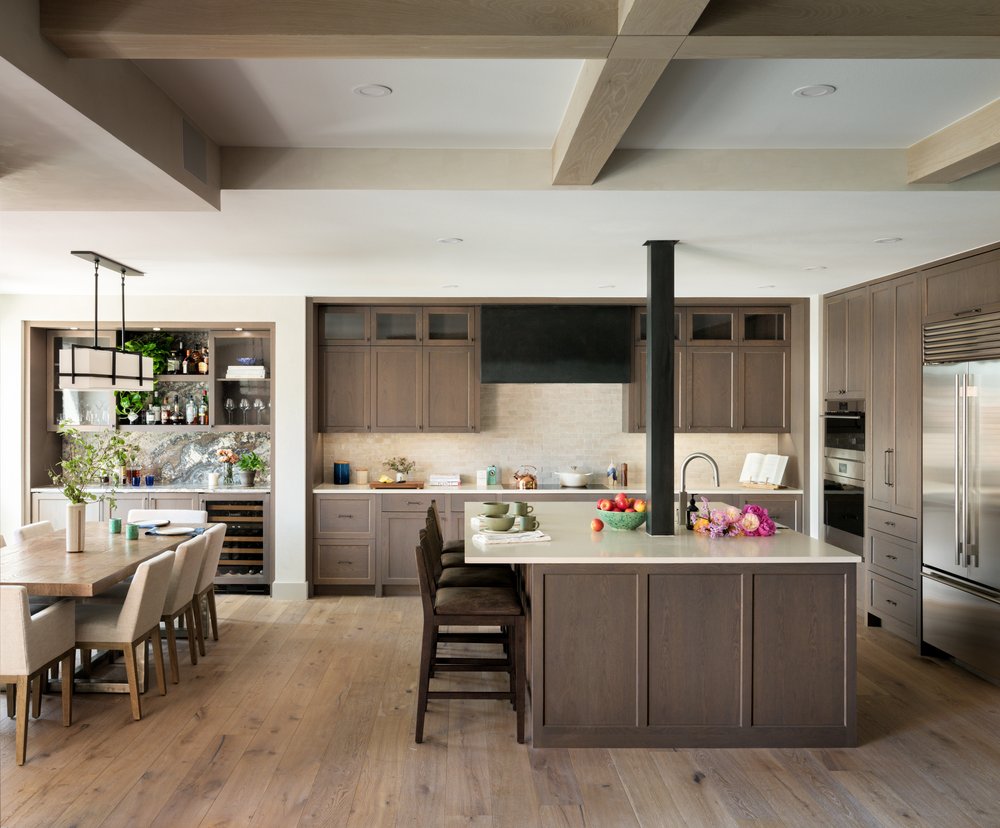 Conclusion
The before and after pictures hammer home the power of wall color and texture. Although complemented by many other elements that add warmth and movement, the Portola Roman Clay set the stage for the whole space to be wrapped in a cozy, mountain feel. You forget you're in the middle of downtown Denver and are instead transported to a retreat far from civilization.
Contact Brayton Interiors today for timeless, luxury design and unparalleled customer service. At Brayton Interiors, we balance classic sophistication with lifestyle and comfort by considering each client's specific taste and home architecture to turn your house into a dream home. When looking for the best interior design companies in Colorado, choose experience and expertise offered by top interior designers at Brayton Interiors to tackle your design projects for luxury living.